Qingdao Company
Company Profile
Qinghai Branch, established in 2005, is vanguard in North China to expand service range of China Sea Group. By virtue of the successful experience and sound service network of China Sea Group in China's mainland, Taiwan and Hong Kong, and after its establishment, the Branch integrates with other branches quickly and forms deep coorperation relationship with many shipment companies, providing high quality shipping agency service for agencies both at home and abroad.
Main Ports and Regions within Service Scope
The Company mainly manages two ports, Qiangdao Port in Shandong Province and Lianyungang Port in Jiangsu Province. The former one is a famous natural deep-water port, which is an important international trading port and transportation junction at west bank of Pacific Rim and has various ports of containers, ores, raw oil and coal. There are global regular lines leading to various large ports all over the world. Lianyungang Port take developing costal industry as its goal; the vast economy hinterland covers Shandong, Henan and Jiangsu Provinces, which is also covering area of Qinghai Branch.
Introduction of Advantageous Service
Besides professional LCL and FCL non-vessel shipping service, with convenience of geographical position, the Branch is expert in international railway service whose service tentacles reach as far as Russia, Belarus, Ukraine, Central Asia, Mongolia and South Korea; the sea-rail combined transport from Qingdao to Vostochny is also part of multiple services of Qingdao Branch. In addition, considering the export pattern of North China industry, Qingdao Branch can also provide special container, freezer container, chemical container and professional transportation arrangement of bulk cargo, satisfying requirements of various kinds of clients.
Contact Information
CHINA SEA MARINE CO., LTD. - QINGDAO BRANCH
Rm. 809, Building A Vanke Center, No. 2, Heilongjiang (S) Rd., Qingdao, Shandong, China
ZIP: 266071
TEL: 86-532-83867388
FAX: 86-532-83890266
OFFICE MANAGER / SALES MANAGER
Ms. Hailine Jing
86-532-83867388 EXT. 699/611
hailinejing@chinaseagroup.com
DEPUTY MANAGER ADMIN.
Ms. Amy Fang
86-532-83867388 EXT. 626
qinsec@chinaseagroup.com
OP MANAGER
Ms. Iris Shi
86-532-83867388 EXT. 688
qincs01@chinaseagroup.com
FCL OP
Ms. Mary Zheng
86-532-83867388 EXT. 615
qincs02@chinaseagroup.com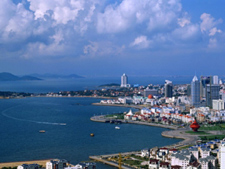 Qingdao City Scenes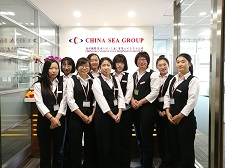 Qingdao Team