Xiamen Company
Company Profile
Founded in 2004, Xiamen Branch's main business purpose is to provide service for widespread clients from Fujian Province and along the coast of south of Fujian, China. Xiamen Branch has independent tax registration and licenses of NVOCC and international cargo agent. Therefore, with the support of professional knowledge and experience of China Sea Group in China's market, Xiamen Branch swiftly obtains a fairly good reputation and appraisement of both clients and persons in the same industry not long after its establishment. At present, it continues to enhance the expansion in the service scope, wishing to establish more extensive and profound professional service.
Main Ports and Regions within Service Scope
Xiamen Branch is responsible for ports including Xiamen Port, Fuzhou Port, Mawei Port, Quanzhou Port, Zhangzhou Port, etc. within Fujian Province, all of which share a long history and are critical; among them, Xiamen Port refers to the ports within Xiamen Bay in the west coast of Taiwan Straits. It covers a vast area and is well known as the largest port in Fujian Province and the crucial sea gateway for South Fujian. Besides that, its economic regions have spread throughout Fujian, Guangdong, Jiangxi, Zhejiang, Hunan, etc. On the contrast, Fuzhou Port is a major export port achieving a high industrial output lately and has various types of new industries. In view of the feature of South Fujian as an important economic region, Xiamen Branch provides professional logistics services for enterprises of all kinds who demands for transportation of exported and imported cargoes.
Introduction of Advantageous Service
Inheriting the powerful competitive advantages of China Sea Group, Xiamen Branch offers the carriage service of professional LCL and FCL without ships which is the advantageous project of China Sea Group for clients in Xiamen. Its advantageous air lines have spread throughout Europe, USA, the Mediterranean Sea, Asia, Middle East, India, Pakistan, etc. As for regions where few enterprises of the same industry set up business, Xiamen Branch succeeds in the service of "single point combined to port" by means of integrating and making use of resources of the Group, therefore the cargoes of clients can be delivered to the receiver safely at the most economical transportation benefit.
Contact Information
CHINA SEA MARINE CO., LTD. - XIAMEN BRANCH.
Unit 02, Floor 10, No.178, Qixing West Road, Siming District, Xiamen, Fujian, China
ZIP: 361012
TEL: 86-592-2136688
FAX: 86-592-2137788
ASSISTANT GENERAL MANAGER
Ms. Violet Zhu
86-592-5320092 EXT.8889
violetzhu@chinaseagroup.com
OP MANAGER
Ms.Icy Bai
86-592-5320035 EXT. 8011
xmncs01@chinaseagroup.com
ADMIN & ACCT CHIEF
Ms. Angelina Hong
86-592-5320075 EXT. 8032
xmnsec01@chinaseagroup.com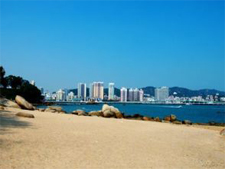 Xiamen City Scenes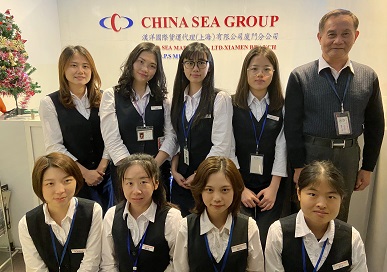 Xiamen Team