Shenzhen Company
Company Profile
Founded in 1999, Shenzhen Branch takes Shenzhen Special Economic Zone as the business center and provides clients in Pan-Pearl River Delta with all-around logistics services like storage, trailer service, declaration, sea shipping and air shipping in line with other braches. Through several years' joint efforts of all staff, Shenzhen Branch is constantly expanding and becomes an international logistics enterprise with great international reputation holding more than 50 professional logistics personnel. Always adhering to the business concept and sprit of China Sea Group——focusing on the quality of services, Shenzhen Branch constantly makes innovations to adapt to new changes, strives to adapt to the market development, improves the professional level of internal staff and perfects the operating flows, and engages itself in providing clients with more superior and swift services.
Main Ports and Regions within Service Scope
Shenzhen Branch is located in Shenzhen, which is near Hong Kong and owns the most ports of customs clearance and the unique ports covering sea transportation, land transportation and air transportation in China as well one of the main gateways between China and the world. Shenzhen plays a leading role in the economic development of South China, has obtained powerful economic support and has established modern infrastructure such as logistics, wharfs and ports. As the main distribution for freight transport in Pan-Pearl River Delta, Shenzhen Special Economic Zone owns Yantian Port, Shekou Port, Chiwan Port, Shenzhen Railway, Baoan Airport and other convenient transportation facilities for sea transportation, land transportation and air transportation, which enables the business region of Shenzhen Branch to expand to Shenzhen, Huizhou, Dongguan, Zhuhai, Shantou, etc and service scope covers export and import transportation of enterprises of all kinds in the entire Pan-Pearl River Delta.
Introduction of Advantageous Service
Shenzhen Branch develops rapidly in the industry of carriage of professional LCL and FCL without ships by virtue of several years' experience in freight forwarder and has obtained a vast number of clients and stable client base. Meanwhile, it also establishes a long-term intensive cooperation with each major shipping businessman and its advantageous airline has spread throughout Europe, USA, the Mediterranean Sea, Asia, Middle East, India, Pakistan, etc. Though perfect service network and globalization transportation plans, it provides complete and considerate professional services of all kinds for the transportation of imported or exported cargoes in the regions.
Furthermore, Shenzhen Branch owns professional commercial agents which provide various services including land transportation, storage, customs declaration for import and export, inspection of cargoes, insurance, and logistics value addition service of various bills and the most convenient agent services for China's mainland, Taiwan, Macao and Hong Kong.
Contact Information
CHINA SEA MARINE CO., LTD. - SHENZHEN BRANCH.
Rm 2311, Kerry Centre, No. 2008 South Ren Min Road, Shenzhen, China
ZIP: 518001
TEL: 86-755-25180555
FAX: 86-755-25180556
OFFICE MANAGER / SALES MANAGER
Ms.Spring Wu
86-755-25180555 EXT.8553
springwu@chinaseagroup.com
ADMIN SECRETARY
Ms.Eva Guo
86-755-25180555 EXT.8513
sznsec@chinaseagroup.com
FCL OP CHIEF
Ms.Jenny Lee
86-755-25180555 EXT.8539
szncs01@chinaseagroup.com
LCL ASSISTANT OP CHIEF
Ms. Sophie Fang
86-755-25180555 EXT.8529
szncs03@chinaseagrou7.com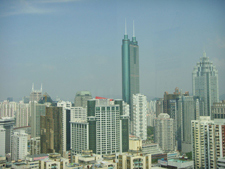 Shenzhen City Scenes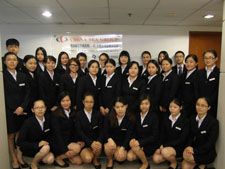 Shenzhen Team